Dr.Web Security Space
Comprehensive protection from Internet threats for Windows, macOS and Linux.
Licensing
Dr.Web software usage terms are governed by the License agreement. A serial number, either commercial or trial, is required to run the program. The period of a serial number starts as soon as the user registers it.
New license

The product is licensed per number of protected PCs — starting from 1 up to 5, for 1, 2 or 3 years. The longer the license period and the bigger the number of protected objects, the lower the cost of the license to protect 1 PC.
Renewal

An additional purchase is available at a discount — starting at 40% off if you renew for 1 year (depends on the length of the renewal license).
Additional purchase

If the customer's license is expiring in less than three months — additional licenses are available free of charge for protection of up to 5 PCs.
If the customer's license is expiring in more than three months — additional licenses are purchased at a renewal discount.
Dr.Web software products available with the license
Basic technical support includes:
Virus database updates
Dr.Web program module updates
Any number of technical support requests*
Free recovery of files corrupted by encryption ransomware—provided these requirements were met at the moment the incident occurred.
*If the license covers technical support services
Delivery types
Don't have a Dr.Web license?
This can easily be fixed!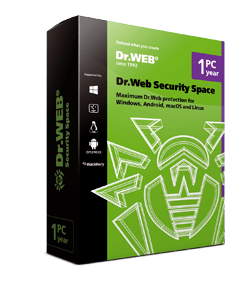 Dr.Web Security Space
1 PC + 1 mobile device for 1 year